Animal Success Stories
Click a letter to find an animal or
view all
.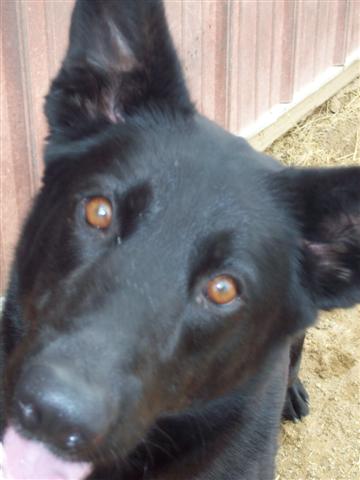 Katrina
MOGS heard from Katrina's new family!! "We were fortunate to have her choose us.  (I am a firm believer that the dog actually chooses you!)  Having seen our home and heard about our beloved and recently departed Sam of almost 15 yrs, you know the biggest part of the welcome, home Katrina, story.
We adopted her Oct 23, 2010. (The Wednesday before, I had driven to Emporia to check out Kramer.  Knew he wasn't the one, he found a forever home the next day! at a MOGS event).  We discovered Katrina was a great traveler that afternoon.  We didn't even have dog food at home.  No problem, I had cooked for Sam about 12 1/2 years so a tasty meal for her was right on hand!  She snarfed it down with gusto!  The first week she didn't sleep in our bedroom.  We found her on the couch in the tv room.  We put aluminum foil on the couch at night....solved the problem within a week.  She has happily slept in Beasley's Couch at the foot of our bed ever since.  Over the past 6 mos we have seen many emotional layers shed.  After 3 mos folks couldn't believe we had her only a short time.  She was on her way to a successful forever home!  She has become so happy folks consistently remark.  Katrina has overcome any defensive/aggressive biting.  While on vacation (after just 3 mos in our home) a youngster came up from behind to hug her.  Katrina enjoyed the hug!  The youngster got a lesson in how to approach dogs.  The event was a garden railway steamup with 119 folks and 8 dogs.  There were no incidents. She has become ultra protective of her home.  (It didn't help when the UPS guy opened the front door to slip in a package., thinking our oldster Sam was on board.  Rule of Thumb:  do not enter my house without an invitation!!)  We are using the "Chill Pill" technique at 98% success now.  Chill Pill works by thanking the dog for the alert, a correction, then using the words "chill pill", giving praise and treat if the dog settles.  Katrina is a welcome visitor at our friends.  She is a great "therapy" dog for my aging parents and their friends.  Katrina was obese at the time of adoption.  To date she has lost 16 pounds!  and is 6-8 pounds from her goal weight!  She loves attention and grooming.   Folks are amazed at her shiny black coat.  Our bonds are strong and getting stronger.  We're a happy, healthy, grateful pack.
THANK YOU, MOGS!!!"
 A note from MOGS:  Stephanie(Katrina's new Mom) is now volunteering with MOGS and helping other dogs find their forever home!!  Wouldn't you like to help other dogs?  We have plenty of openings for volunteers, just click on Volunteer Application under How to Help on the left hand side of this page and you will go to sleep with a warm heart!!!
Cliff
On January 22, 2011 MOGS President Nancy Campbell spent four VERY cold and wet hours on a cliff in Kansas City, rescuing two dogs. It wasn't her first time to rescue a dog (more like her hundredth) so she knew it took patience and time to build trust with the dogs. The main problem was that there had just been a snowstorm that dumped 10" of snow and ice -- and the dogs were living in an old broken-down shed at the bottom of a cliff.
The two dogs had been roaming stray in the area for 6-12 months and had become bonded. But until the very cold and snowy weather hit, neighbors just tried to feed them hoping they'd survive. By the time we arrived, white GSD "Cliff" was unable to walk or fend for himself. The smaller shepherd mix, Mari, was still a decent weight, but Cliff was starved to the point where he couldn't walk. A kind neighbor was leaving food for them and called MOGS. Both dogs put up as much fight as they could, which was considerable. Ultimately both had to be manually lifted and carried up the cliff. A scary moment happened when the rope holding Cliff nearly broke and he dropped about 10 feet! Thanks to a strong neighbor, we quickly got Cliff back up and safely into the van. Cliff was heartworm positive, had extreme fur loss and was infested with fleas. He was in such terrible shape that at first we thought he was 10-12 yrs old -- but in truth he was only 2-3 yrs old! He started gaining weight while in boarding and was put on heartworm medications. After months in boarding, Cliff's journey is over - he now has a wonderful HOME with a doggie sister in southern Illinois!
Mari, his companion, stayed in boarding long after Cliff was adopted. She was still semi-feral and had little interest from adopters. But she too, finally found a home with a loving local family and a doggie sibling! Both Cliff and Mari came a long way, their journey ending in loving, warm, safe, happy homes!
Sabre
MOGS recently heard from Sabre(Abbott's) forever home, enjoy the great news for a wonderful pup!
Sabre's new name is Abbott and he is the best dog we could have ever hoped to find. We adopted him from MOGS last year in August after returning from our honeymoon! So, he has almost been with us for a year. His previous owners abandoned him for days in an apartment with a broken leg, and when we adopted him he already had that leg amputated. That doesn't slow him down at all, believe me! He loves to go on walks, ride in the car, go to the dog park, and go to work with Daddy. He goes up and down stairs, swims in the lake, and all the things dogs with four legs do! He even learned to jump up in our bed recently (much to his father's disappointment). He took his first boat ride on the 4th of July this year and had a blast playing with his doggie friend Izzy. He loves stuffed animals and even knows them by name (his current favorite is a buffalo named Ted). He is a perfect gentleman off leash and will hang out in the front yard with me while gardening. We are so thankful that MOGS took the time and money to help him because he truly is the sweetest dog out there! In their initial description of him, MOGS said he just wants to be loved by everyone and a truer statement has never been made. He even loves his two kitty sisters Maggie (6) and Bonnie (10) even though they don't love him much in return. We could not have asked for a better wedding present thank you MOGS!
Theo
I recently spoke to Theo's (now Teddy's) new Dad and he indicated that Teddy is doing GREAT. I was fortunate enough to be involved in dropping Teddy at his new home. He had been at the kennel for about 9 months and seemed to be almost crazy there!! As soon as we opened the back of the SUV (which we were just getting something out of) he jumped in and did NOT want to get out. Turns out he was just trying to be the Alpha dog at the kennel and really loved people & riding in the car. As soon as we turned him lose in his new backyard he calmed down and loved just hanging out. Teddy now goes for bike rides (I know what you are thinking as I did the same) it turns out that Teddy loves to run along beside the bike while his Dad rides. One of his favorite places to visit is the daycare run by his Grandma and play with the kids. What a great life for a dog - kids, exercise & love!!!
Buddy (in 11.10)
Buddy was full of energy and had a hard time concentrating before being adopted. Now he's graduated top of his class and loves his kitty sister!! He's with his Dad 24/7 and even gets to take road trips with him. He's becoming quite the gentlemen and man of the world!! Buddy loves his forever home!!!
Click a letter to find an animal or
view all
.