Dixie's Web Page
German Shepherd Dog : : Female : : Young : : Large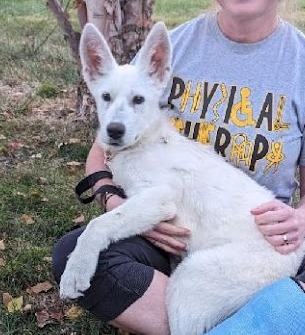 I would love you more than you can imagine.
Please adopt me!
Learn more about the German Shepherd Dog.
Print an adoption flyer for Dixie!
About Dixie

Status: Available for Adoption (adoption info)
Adoption Fee: 400.00
Species: Dog
General Color: White
Current Age: 8 Months (best estimate)
DIXIE
came to MOGS after being found stray and left unclaimed by an owner.
**More information on Dixie, coming soon!**
If you're looking for a gorgeous, young German Shepherd
who has good energy,
DIXIE may be your ideal family member!



DIXIE'S ADOPTION FEE: $400
This fee covers only part of what we spend to vet, board and rehab the dogs we save. On average we spend over $450 on each dog. We made a decision to keep our adoption fee at the 2005 level even though vet prices have doubled and tripled since then. We are constantly fundraising to cover the deficit. At minimum, your adoption fee includes the dog's spay/neuter, heartworm test, heartworm treatment if needed, rabies shot, distemper/parvo shot, bordatella shot, deworming, monthly heartworm and flea preventives, and microchip. In many cases it also includes surgery and various types of vet treatment for standard issues such as hot spots, ear infections and so on.
INTERESTED IN ADOPTING DIXIE
Complete an Adoption Application Now!
More about Dixie
Not Good with Cats
,
Is Not Good with Kids
STOP!! READ THIS BEFORE YOU GO ANY FURTHER!
We're picky about our adopters.
Are you sure you're up to having a GSD? They're not for everyone. They take a lot of time, effort, training. They shed year round. They're big. They scare lots of people. They "mouth" and herd. They're usually strong-willed and stubborn. You have to have references and a home visit. If you're not willing or able to deal with any of this, please don't waste your time or ours applying.

Will the dog be an inside family pet? We do not adopt to outdoor-only homes. All dogs must be indoor dogs.
Do you leave your dog outdoors when you're not home? We do not adopt to homes that leave their animals outside when they're gone. You must put your dogs indoors when you're gone. A 3 yr old adopted MOGS dog died when the owners went to run errands, left her outdoors, the gate was somehow opened, and she was hit by a car. Tragic and 100% preventable. Even privacy fences get broken into. Gates are opened. Thieves steal dogs. Never leave your dog outdoors when you're not home!!

What's your plan for unexpected events and major changes? New baby? Divorce? Moving? How you will provide for your dog if your family breaks up?

Will you make a lifetime commitment? It's your responsibility to keep your dog safe, loved and cared for FOR LIFE.
Do you understand we expect you to keep that lifetime commitment? It's YOUR RESPONSIBILITY to stick by your family member -- no matter what.
Are you unable or unwilling to make a lifetime commitment? Do not apply.
Thank you for considering a homeless dog or cat.